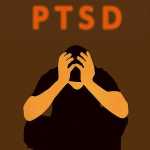 "Many military personnel returning from the Middle East are suffering from post-traumatic stress disorder (PTSD), and some believe that a therapeutic technique called magnetic resonance therapy, or MRT, can help them heal. Although research on the effectiveness of this type of treatment is scarce and inconclusive, many veterans are coming forward to tell their stories about success with MRT. The limited evidence is enough for the government to begin clinical trials. "
This is the beginning of a great article from Brightwater Landing.   They are discovering what we already know:  that Magnetic Resonance Therapy can make a significant improvement for those suffering with PTSD.  To read the rest of the article please visit the site.
Magneceutical Health has helped many veterans with PTSD.  We have already given away several HALO home units to provide Magnetic Resonance Therapy to veterans at home through our HALOs for Heroes program.   Here is a very special video of an amazing veteran who suffered PTSD and Traumatic Brain Injury while serving our country.
[youtube]https://www.youtube.com/watch?v=mfyDE5K2b3I[/youtube]
0 comments on "
Can Magnetic Resonance Therapy Heal PTSD?
"