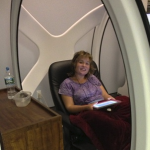 We wanted to share a "progress report" about the impact of Magnetic Resonance Therapy on Autism.  Dr. Greg Bark has been working with a patient named Sierra in his practice in Massapequa, New York.
Background: When Sierra first started working with Dr. Bark last April he was treating her to help with:
Severe Autism
Skin Lesions
Non-verbal
Aggressive Behavior
Incontinence
In July her parents wrote: "We have seen major improvement in her skin condition. Her face has mostly been all clear. We have also seen major improvements in many other areas.
Sierra is no longer in a diaper, she is so happy and her aggression is no longer an issue. Her receptive language is much better and she is doing more independent things for herself. The Magnesphere has given Sierra the best and most lasting results we have seen with all the treatments and drugs we have done."
In October: "Her receptive language is better than ever. She is doing really well at school and her independent showering ability is really improving. Her behavior has been sweet, happy and just a pleasure to be with. She is now 100% drug free!"
In December: "We have had weeks at a time where she has been totally sore free, The first time this has happened in 7 years. This is so amazing! When we go to Dr. Bark she runs right to the Magnesphere and is staying in it for the full hour!  Thank you again Dr. Bark and the Magnesphere!"
* Results not typical. This testimonial is based on the experience of one person and you may not have similar results. The average person will experience an enhanced feeling of relaxation
0 comments on "
The Magnesphere and Autism
"