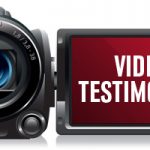 You are probably already aware of the power of a good testimonial video.  If you make the effort to capture good testimonials and put them to use you are likely to see great results if you do it right.  Use the guide below and you will be ahead of 99% of your competition.
Capture Quality Video Footage
Equipment
Camera

– an iPhone does a remarkably good job capturing quality video when combined with the other essential elements.
Tripod

– a simple lightweight tripod to stabilize the camera makes a huge difference in perceived production quality (Link to a good tripod:

http://goo.gl/zPkVmQ

)
iPhone Camera adapter

 – you will need this to attach the phone to the tripod (Link to a good adapter –

http://goo.gl/5TO6Hm

)
Microphone

– a omnidirectional microphone attached to the phone does a great job enhancing the sound quality while blocking out unwanted external noise (Link to a good microphone – https://goo.gl/tuNhpw or https://goo.gl/RDCpQr

)
Technique
Orientation –

The number one filming technique that a lot of people miss is

to have the video in the wrong format

.  Think about where your audience will be viewing your video.  If most of them will be viewing from a laptop or desktop system landscape orientation will look the best.  If most of your audience will be viewing from a mobile device then portrait orientation may be best.  There are advanced techniques like changing it to square which will look pretty good in either desktop or mobile, but you don't need to worry about that unless you already have a good video editor that can do it for you.
Lighting – You probably won't have professional lighting rigs at your disposal but try to make the most of the lighting available to you.  The best light is usual natural light, so if you have the opportunity capture your video in natural light or near an open window.  But never film with back-lighting unless you want a "silhouette" effect.  If you must use fluorescent lighting make sure you have enough of it so your subject looks well lit.
Creativity –

There are other techniques that you can consider, depending on the type of content that you are creating.  Sometimes it is more interesting to have the subject of the video slightly off-center or from a video other than straight-on.  Have fun with it and try something to set yourself apart.
Post Your Video Testimonials
So once you have your video testimonial what do you do with it?  Hopefully you have at least one social media account such as Facebook.  If so that is a natural place to start – go ahead and post your video there.  If you have a blog it would be natural to create a new blog post for each testimonial video.  You could also have a page on your website dedicated to showcasing your collection of testimonial videos.  If you use this approach try to make it easy to find the video by grouping them by "tags" or "categories" so your prospects can find the one that they are interested in right away.
If you have a technique that works for you please comment below!
0 comments on "
Capturing and Posting Testimonial Videos
"