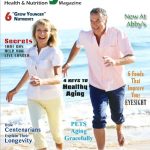 Our schedules are busier than ever, meaning that rest and relaxation are sometimes lower on our list of priorities than they need be. In your attempt to live a healthy and balanced life, you are likely to work out and eat well—but you cannot ignore the importance of rest and overall reduction of stress. In a recent article posted in Abby's Health and Nutrition magazine, which was written by our friend Dr. Marlene Siegel, the connection between stress and disease is explored. Below are a few highlights.
When You Are Stressed Your Body Can't Repair
When you are stressed out, your level of the stress hormone cortisol turns "on"—and when on, your growth and repair hormones essentially turn "off." When your healing hormones are turned off, your risk for disease significantly increases, and the aging process accelerates. These effects occur regardless of your age. By prioritizing rest and relaxation in your daily routine, you can effectively combat stress, and boost your body's natural healing abilities.
But how do you achieve such a feat?
Introducing Magnetic Resonance Therapy
In her article, Dr. Siegel discusses how Magnetic Resonance Therapy can be used to stimulate the parasympathetic nervous system via the Vagus nerve, which is responsible for relaxation, digestion, immunity, sex drive and more. The therapy also boosts anabolic metabolism, resulting in regeneration, growth, and repair of cells designed to keep you healthy.
Magnetic Resonance Therapy is a method of relaxation that is a welcome alternative to drugs, shots, and surgery. The more relaxed you are, the better you will sleep at night, and the better your body will function. This therapy requires you to do nothing other than sit back and relax while the low-level magnetic resonance activates a vibration that returns your cells to their normal frequency. Although you don't feel a thing during therapy, the results will be apparent within hours.
Pets Get Stressed Too
Pets get stressed too, often as a result of their owner's stress. This FDA-approved therapeutic machine was designed for humans, but many opt to bring their cats and dogs with them during their session. Help your pet normalize with magnetic therapy, and you will both achieve improved rest and relaxation.
Relaxation is just one of the many benefits of Magnetic Resonance Therapy — See some of our patient success stories to learn how it has helped many people improve their lives.
0 comments on "
Relaxation And Its Role In Anti-Aging And Living Disease-Free
"