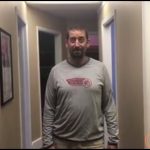 Bill went to Dr. Anissa Gruendler to find some relief from his  Chronic Lower Back Pain.  After just one hour-long treatment, Bill feels  an overall relaxation and is much looser.
[youtube]https://youtu.be/e_iYynI2804[/youtube]
Results not Typical. This testimonial is based on the experience of a one person and you may not have similar results. The average person will experience an enhanced feeling of relaxation.
0 comments on "
Bill finds relief from Chronic Lower Back Pain
"