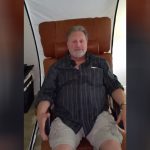 Steve met with Dr.Harari to find relief from his Hip Pain.  After one hour in the Magnesphere, his stiffness is gone, he can lift his leg, and he has no pain.
[youtube]https://youtu.be/nFCjUxEHi8o[/youtube]
Results not Typical. This testimonial is based on the experience of a one person and you may not have similar results. The average person will experience an enhanced feeling of relaxation.
0 comments on "
Steve finds relief from Hip Pain
"