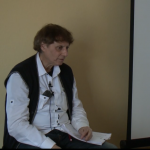 The highlight of our MagneCon conference this year was getting an "unfiltered" presentation from the man who has researched and perfected Magnetic Resonance Therapy for over 30 years – Dr. Jerry Jacobson.  He gave an overview of some of the codes and protocols available in the Magnesphere, and he also shared some details on how he would approach some specific conditions.  You can watch the full video of his presentation, but we also have captured some of the tips that he shared in this article.  Keep in mind that these tips do not replace any other training or best practices, but it might give an alternative approach or some added context to aid in diagnosing and treating your patients. To see Dr. Jacobson's full presentation scroll to the bottom of this post.
General Approach
The first visit is the most important.  It will probably take longer.  Take the time to figure out what is working.  Pick a good starting code.  If after 10 minutes there is a positive response, go to a standard protocol.  If there  is no response move on to a new code.  If you don't use the right signal nothing will happen.  If it's 30% (or more) better after 10 minutes you know it is working.
When using protocols, always work your way up from the lower numbers (weaker signals) to higher numbers (stronger signals).
Stronger signals are "stiffening and rigidifying".
Always make sure patient is well-hydrated.
Code/Protocol Overview
| | |
| --- | --- |
| Code 1 | Goes to tendons. This will help with Tendonitis. If you have someone with Tendonitis start here. If after 5-10 minutes it is not working, try something else. |
| Code 2 | Great for ligaments (any kind of sprain) |
| Code 3 | Good for: Neuropathy, Bone pain, Osteoarthritis, Lupus, Gout, Cartilage, Rotator Cuff |
| Code 4 | Stronger signal. Sympathetic. Useful for Fibromyalgia, Hip pain, Osteo Arthritis (more severe), Bone pain where Code 3 was not strong enough (use Code 3 to see if it works first) |
| Code 5 | Highly sympathetic. Only use it when Code 4 doesn't work for bone pain. Only use for severe pain, like arthritis of the hands or really bad back pain with sciatica. Exposure time should always be lower than you would use for other signals. Always preface it with 10A, and maybe alternate back and forth between 10A and Code 5 (7-8 minutes per code). Never go longer than 8 minutes because the signal is so strong. |
| Code 7 | Brain signal. Treats any Cranial Neuropathy, Tics, Neuralgia, or any Neurological disorder. This signal is relaxing for patients in this category. Start here for Parkinsons. Put them in this for an hour, see how they do. |
| Code 9 | Relaxation. A little bit weaker signal than 10A |
| Code 10A | Relaxation. Use it before some others to relax the soft tissue. A little bit stronger than 9 |
| Code 12 | Brain signal. A "balancing" signal. Depression, or pH is off or any "Erratic" behavior. Balances blood pH. Balances Tonicity of ANS. Good for balancing Sympathic and Parasympathetic tones. Do not need to relax them first. |
| Code 13A | Same magnitude as 12, but with a slightly higher frequency. This stimulates Improved Cognition or Short-term Memory |
| Code 13B | "Wake up" the brain. |
| H Protocols | Osteoarthritis. Very useful for bone/joint pain anywhere. The higher H numbers are stronger signals – start with lower first |
Suggestions for Specific Conditions
| | |
| --- | --- |
| Neuropathy | Goes to tendons. This will help with tendonitis. If you have someone with tendonitis start here. If after 5-10 minutes it is not working, try something else. |
| Fibromyalgia | Start with Code 4. This is a unique case where you do not use relaxation first |
| Severe Back Pain with Sciatica | Start with A1-60 (or D1-60 or D2-60). Use relaxation protocols for a few sessions first until you can eliminate or greatly decrease the Sciatica first. After that go to one of the H protocols, or try alternating between Code 3 and (any relaxation code or protocol). If Code 3 is not working, try Code 4 after relaxation. Ask patient to move and see if pain level is down. If that doesn't work, repeat process with Code 5. Always finish with relaxation signal (A1-60, A1-30, 10A) |
| Bone/Joint Pain | Start with H2, work your way up. For bone pain (or really anything other than Fibromyalgia) always start with a relaxation signal like 10A, and use relaxation signal at the end as well. |
| Rotator Cuff | Start with 10A, then go to Code 3. Let them move a little bit. If you see improvement then you move to standard protocol (like H2-60) |
| Parkinsons | Start with Code 7 to evaluate – if progress is made, then go to a series of Parkinson's protocols (C1-60, C2-60). If progress stalls try going back to Code 7 periodically. In the protocols, there may be some other signals that leave them stiff (code 7 will be stiff); if so throw in some relaxing protocols. |
| Autism | Autism patients are typically in a highly Sympathetic state. Start with a Parasympathetic protocol. Eventually it will start to show results. Another approach is start with A1-60 for a session. If that does not do anything, try a Sympathetic signal – this should trigger the Autonomic Nervous System to counter that and help the body "heal itself". |
| Autism | Autism patients are typically in a highly Sympathetic state. Start with a Parasympathetic protocol. Eventually it will start to show results. Another approach is start with A1-60 for a session. If that does not do anything, try a Sympathetic signal – this should trigger the Autonomic Nervous System to counter that and help the body "heal itself". |
| ADD | Start with Code 12 |
| General Well-being and Happiness | D2-60 |
| Adema | Back and forth between Code10A (or Code 9) and Code 2 (or Code 3 or Code4) |
| A1-60 Alternative | If A1-60 gets the patient "amped up" and energized try using Code 12 instead to balance them out and relax them. |
| Sexual Performance | Try any of these codes: Code 12, 13A, 13B, 11B. This should help with both men and women |
Results not typical. This testimonial is based on the experience of one person and you may not have similar results. The average person will experience an enhanced feeling of relaxation
One comment on "
Dr. Jacobson's "Tips and Tricks"
"