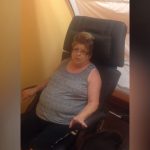 Margie uses the Magnesphere on a regular basis.  When she comes in she is usually very stiff, has severe headaches and shortness of breath.  After each treatment session in the Magnesphere, all of those symptoms are gone.  I guess it's safe to say she is a fan!
[youtube]https://youtu.be/MrAYZVbngR8[/youtube]
Results not Typical. This testimonial is based on the experience of a one person and you may not have similar results. The average person will experience an enhanced feeling of relaxation.
0 comments on "
Margie is a fan of the Magnesphere
"