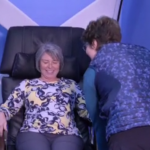 Dr. Gruendler Shows off the Magnesphere on "Show and Tell"
Dr. Anissa Gruendler, owner of Michiana Pain Relief in Nappanee, Indiana was on a local morning television show sharing the many benefits of the Magnesphere with her rural community.  You can watch the full program in the video below.  Dr. Anissa, as she is known by her many happy patients, has helped hundreds of patients feel better and one of her primary tools is the Magnesphere.  As Dr. Anissa describes in the video the Magnesphere uses electro-magnetic fields which create a wonderful relaxation effect, and addresses many symptoms associated with pain or inflammation.
You can visit Dr. Anissa's facebook page to see dozens of videos of her patients who got outstanding results with the Magnesphere.
0 comments on "
Dr. Anissa Gruendler Explains How the Magnesphere Works
"