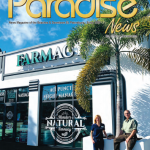 Paradise News keeps tracks of the latest wellness trends in Florida. The magazine recently featured one of Magneceutical Health's customers Florida's Natural Farmacy. Much of the article was centered on the the Magnesphere is an integral part of their wellness treatments.
Here is one story featured in the article:
Ms. C, a third-shift employee at a hospital came in to the Farmacy and described how she had not had a full night's sleep in the 14 years since she started her job at the hospital. Tristan invited her, as they do everyone, to a complimentary session in the Magnesphere Chair. Ms. C called the following day to exclaim that she had slept for 13 straight hours for the first time in her life.
Here at Magneceutical Health we hear stories like this every day. You can see some of our featured success stories on our website.
0 comments on "
The Magnesphere in Paradise
"