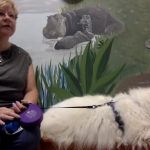 Vicky visited Dr. Marlene Siegel with her dog  to try to relief his anxiety, pain and obesity. After treatment in the Magnesphere and some changes in diet he's a new dog!   He's off any medication, he plays, he lost weight – he is now a happy dog!  Vicky said "He acts 5 years younger".  Watch the video below.
[youtube]https://youtu.be/MvC3PLspq6Q[/youtube]
Results not Typical. This testimonial is based on the experience of one (animal) and you may not have similar results. The average person will experience an enhanced feeling of relaxation.
One comment on "
Jack, a 12 year old American Eskimo dog , finds relief from from obesity, anxiety and pain
"