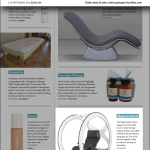 We are proud to be listed in the latest issue of Spa Opportunities – a magazine dedicated to sharing the latest trends and opportunities for professionals in the Health Spa industry.  It is just a quick mention on page 18, but we are still happy to see the industry embracing alternative therapies to bring deep relaxation to their clients.  Click here to download the latest copy of the magazine.
The Magnesphere provides a unique relaxation therapy using Magnetic Resonance that can be adjusted to address the stress that is unique to each health spa guest.  The Magnesphere will also be featured at the 2016 ISPA Conference & Expo.
0 comments on "
Looking for the Latest Health Spa Business Opportunity?
"