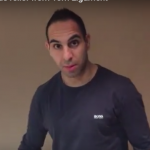 Many athletes have turned to the Magnesphere to aid in their recovery.  The video below documents the recovery process of a hockey player with a torn ligament.
Watch for his rapid progress over a few sessions.
[youtube]https://youtu.be/UlSLi8VmIEM[/youtube]
Results not Typical. This testimonial is based on the experience of a one person and you may not have similar results. The average person will experience an enhanced feeling of relaxation.
0 comments on "
Hockey Player finds relief from Torn Ligament
"