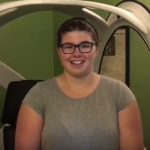 Marissa went to Dr. Anissa Gruendler's clinic Michiana Pain Relief to find relief from her frequent severe headaches as well as some back and neck pain.  She came in with a "4" on the pain scale, and after a 60 minute session in the Magnesphere she had no more pain.  You can see Marissa's description in the video below.
[youtube]https://www.youtube.com/watch?v=ThEEDyuMgvE[/youtube]
Results not Typical. This testimonial is based on the experience of a one person and you may not have similar results. The average person will experience an enhanced feeling of relaxation.
0 comments on "
The Magnesphere vs Headaches
"